Projects
Quality in Higher Education QiHE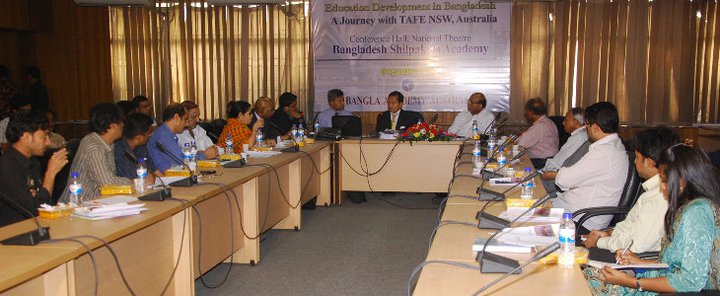 Seminar, Conference Hall, National Theatre, Bangladesh Shilpakala Academy
The roots of education are bitter, but the fruit is sweet. – Aristotle
"There is no one who loves pain itself, who seeks after it and wants to have it, simply because it is pain…"
What is Quality in Higher Education (QiHE)?
Quality Education Education, i.e. quality education is a right based approach. With this consideration, Quality in Higher Education (QiHE) is fulfillment of the requirements, standards or expectations and to safeguard standards being applied in the context of higher education.
BAA organised an international education seminar in Bangladesh March 16, 2011 introduced Australian Quality Education System, and in Australia organised an international conference, June 09 2011 at the UNSW. This conference supports Quality in Higher Education in Bangladesh. BAA inviting highly distinguished academic to join
Chairman and team members: 
QiHE Leadership team members are highly motivated distinguished professor form Australia, Bangladesh, Canada, Germany, USA, UK and some other countries. Bangla Academy host an international seminar jointly host by the University of NSW on the 9th June 2011 where Professior Anisuzzaman nominated to be the Chair for QiHE and Mr. Anwar Akash has been appointed as Project Director;
How QiHE works?
Accreditation, in general, is a process of assessing an institute providing higher education to determine if it meets a set of standards. Usually the expectation of students and capacity of institute are assessed through a series of interlinked approaches in order to address the needs of students, to safeguard standards, to drive improvements; and to improve public understanding of higher education. In terms of continuous professional development, course accreditation process usually got an affirmative link to professional outcomes. Critical monitoring of an institute's own performance can improve its efficiency and effectiveness, as well as public accountability.
The Commonwealth funded major discipline reviews during the mid 1980s to determine standards and to improve quality and efficiency in universities. While the reviews revealed the importance of quality assurance within institutions and across the sector, there was no way to ensure that institutions acted upon review recommendations.
The Commonwealth was concerned to maintain and further enhance the quality of Australian higher education during a time of large-scale structural reorganisation in the late 1980s and rapid growth in higher education participation from the early 1990s.
In 1991 the Commonwealth moved from the discipline review approach to a whole of institution approach to quality assurance. It announced a comprehensive set of measures to enhance the quality of higher education teaching and research. Those universities able to demonstrate a high level of quality assurance in the context of their missions and goals were provided with extra funding.
The Commonwealth established the Committee for Quality Assurance in Higher Education in 1992 to:
provide advice on quality assurance issues;
conduct independent audits of institutional quality assurance policies and procedures; and,
make recommendations about the allocation of annual quality-related funds.
The Committee conducted three rounds of independent whole of institution audits from 1993 to 1995. The voluntary self-assessment undertaken by institutions under this program triggered considerable change at the institutional level as gaps were identified and outcomes measured.
In March 2000, the former Ministerial Council on Employment, Education, Training and Youth Affairs (MCEETYA) endorsed an independent audit body to strengthen the quality assurance framework for higher education in Australia.
The Australian Universities Quality Agency was established in early 2000. AUQA was responsible for auditing the quality of Australian universities. AUQA conducted audits of the activities of Australian universities in Australia and off-shore on a five year rolling cycle. The process involved a self-assessment and a site visit. Audit reports contained commendations, affirmations and recommendations for universities to act upon.
The Review of Australian Higher Education (the Bradley Review) recommended an independent national regulatory body be responsible for regulating all types of tertiary education. The Review team reasoned that a national approach would provide a more effective, streamlined and integrated sector, achieving a sustainable and responsible higher education system in the larger, more diverse and demand driven environment.
In 2012 the Tertiary Education Quality and Standards Agency (TEQSA), the national regulator for higher education was established.
The Tertiary Education Quality and Standards Agency Act 2011 established the agency and the new national regulatory and quality assurance environment for Australian higher education. 
Seminar in Australia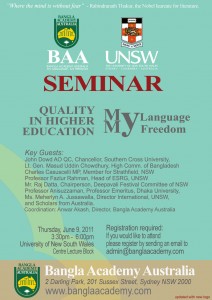 Seminar in Bangladesh