Projects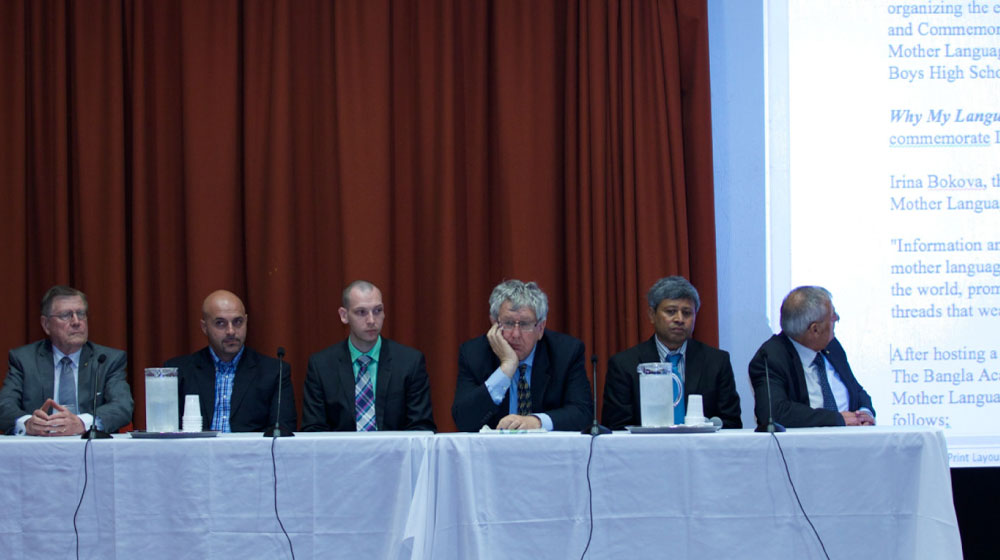 My Language My Freedom
Many voices one language My language My Freedom
Please register your interest here to respect your Mother Language; link
If you are coming for the IMLD Seminar at the NSW Parliament House you may bring some flowers to show respect to the language martyrs. 
My Language My Freedom
IMLD International Mother Language Day (IMLD) 21 February was proclaimed as International Mother Language Day (IMLD) by UNESCO since 1999. Bangla Academy started journey with the aim to respect IMLD and started developing a program during commemoration every year since 2006. BAA host an international seminar 'International Mother Language Day seminar 2011' at the UNSW. This year's event will be held on February 19th, 2016 from 3pm to 5pm at the NSW Parliament House. For this program we are inviting all communities, their rich cultures, books and languages.
Why MLMF?
To commemorate IMLD and to promote all languages spoken in Australia. Specially minority, endangered languages. In Australia indigenous language should be protected. Aboriginal and Torres Strait Island languages are in threat. Our aid is to develop a national harmony between the languages and at the same time to develop the harmony internationally.
Irina Bokova, the Director-General of UNESCO is quoted stating during the International Mother Language Day 2011:
"Information and communication technologies can be predominantly useful in promoting mother languages. We must harness the power of progress to protect diverse visions of the world, promote all sources of knowledge and forms of expression. These are the threads that weave the tapestry of humanity's story."
After hosting a seminar on International Mother Language Day at UNSW (9 June 2011), The Bangla Academy Australia (BAA) decided to commemorate this day February of every year. The goals set forth in the developmental stage will be depending on how cohesively we are working to get the benefit of IMLD in a multi-lingual society.
History
The 21st February was proclaimed as the International Mother Language Day by the General Conference of the United Nations Educational, Scientific and Cultural Organization (UNESCO) in November 1999 (30C/62). The date was a result of student and general public demonstrations in Dhaka, Bangladesh in 1952 calling for the recognition of their mother language, Bangla, as one of the state languages of then Pakistan. Many demonstrators were shot and killed by police. On 16 May 2009 the United Nations General Assembly in its resolution A/RES/61/266 called upon Member States "to promote the preservation and protection of all languages used by peoples of the world". By the same resolution, the General Assembly proclaimed 2008 as the International Year of Languages, to promote unity in diversity and international understanding, through multi-lingualism and multi-culturalism.
Partners
Our partnership program at Hornsby Girls High School & Punchbowl Boys High School event for IMLD 2014 and IMLD 2015 went very well. In the year 2016 added Adelaide High School from South Australia. All the student from different language background will write 'Mum I love you' in their language. We would like to bring this document as a showcase for the celebration of IMLD in near future. Thank you all students & teachers for your great initiatives. Students will bring all languages together on International Mother Language Day 2016. A big thanks to Hornsby Girls High School, Punchbowl Boys High School and Adelaide High School.
SBS Radio and Radio 2SER is our media partner for this event. Thank you SBS Radio and Radio 2SER and associated producer, Executive producers and rest of the team for your great support for the program.
International Mother Language Institute is the proud supporter of My Language My Freedom. Members of diverse language communities, are cordially invited to join us in developing and improving harmony among the mother languages of Australia and a national organising committee is in the pipeline. Please let us know your best support for a common platform 'My Language My Freedom'
MLMF is looking for partnership program with different languages, corporations, media outlets, schools, art and cultural organisations, NGOs and other 3rd parties. Please register your interest here; link
Language Promoting
Major language spoken in Australia and the languages are as below;
Aboriginal languages, Afrikaans, Albanian, Arabic, Armenian, Assyrian, Azeri, Bangla, Basque, Belarusian, Bosnian, Breton, Bulgarian, Burmese, Cantonese and many other Chinese dialects, Catalan, Croatian, Czech, Danish, Dari, Dinka, Dutch, English, Esperanto, Estonian, Fijian, Filipino, Finnish, French, Gaelic, Galician, German, Greek, Gujarati, Hebrew, Hindi, Hungarian, Icelandic, Indonesian, Irish, Italian, Japanese, Kannada, Kazakh, Khmer, Kiwi, Korean, Kurdish, Lao, Latvian, Lithuanian, Macedonian, Malay, Maltese, Mandarin, Maori, Marathi, Nepali, Norwegian, Occitan, Pashto, Persian-Farsi, Polish, Portuguese, Punjabi, Romanian, Russian, Samoan, Sanskrit, Serbian, Sinhalese, Slovak, Slovenian, Somali, Spanish, Suomi, Svenska, Swahili, Swedish, Tagalog(Filipino), Tamil, Tatar, Thai, Tongan, Turkish, Ukrainian, Urdu, Vietnamese, Welsh, Yiddish.
Please register online if you can or cannot locate your language; link
Language Representatives
Bangla Academy Australia invites qualified language representative to come forward. We need representatives for almost all standard languages. Please register your interest here; link
Board Member
We have a few vacancies for members of our board member. To be a board member individuals need to be skilled and motivated on their mother language. Those interested in pursuing membership will be asked to attend a learning/information session followed by an interview. If you would like to find out more information please write to admin@banglaacademy.com or apply from this link
Work Experience
We welcome requests for work experience from local high schools, colleges, Universities. The areas in which we can accommodate placements are: language representative, Corporate Services, IT, Graphic Design and Promotion of Language. If you would like to find out more information please write to admin@banglaacademy.com or apply from this link
Organisation Background
The Bangla Academy Australia is currently running four different language schools at Epping, Lakemba and Blacktown. All our students, teachers and parents participate every year and give their full support to commemorate International Mother Language Day.
The Bangla Academy Australia celebrated the International Mother Language Day jointly with the Bangladesh High Commission in Australia. The day was observed in Canberra on 24 February, 2007 with due solemnity and reverence at the premises of the Bangladesh High Commission.
BAA is one of the sponsors for MyLanguage.gov.au for the First National Conference (Sydney, 9-11 August, 2010). The theme of the conference explored how digital technologies could be used to assist culturally and linguistically diverse (CALD) communities to achieve greater social inclusion and to maintain their linguistic and cultural identity. The conference presented a rich variety of ideas and responses to the theme of "My Language, Your Language in the Digital Age".
BAA successfully hosted the opening ceremony for the first Bangla (Bengali) New Year celebration successfully at the Sydney Olympic Park during 2006 partnering with Bangabandhu Society Australia. BAA's Mr. Anwar Akash was among the founding members of this event in 1993 (Burwood Girls High School). Since then Mr. Anwar Akash have been involved with the community and a part of major activities within the community for more than the past 22 years. IMLD 2016 link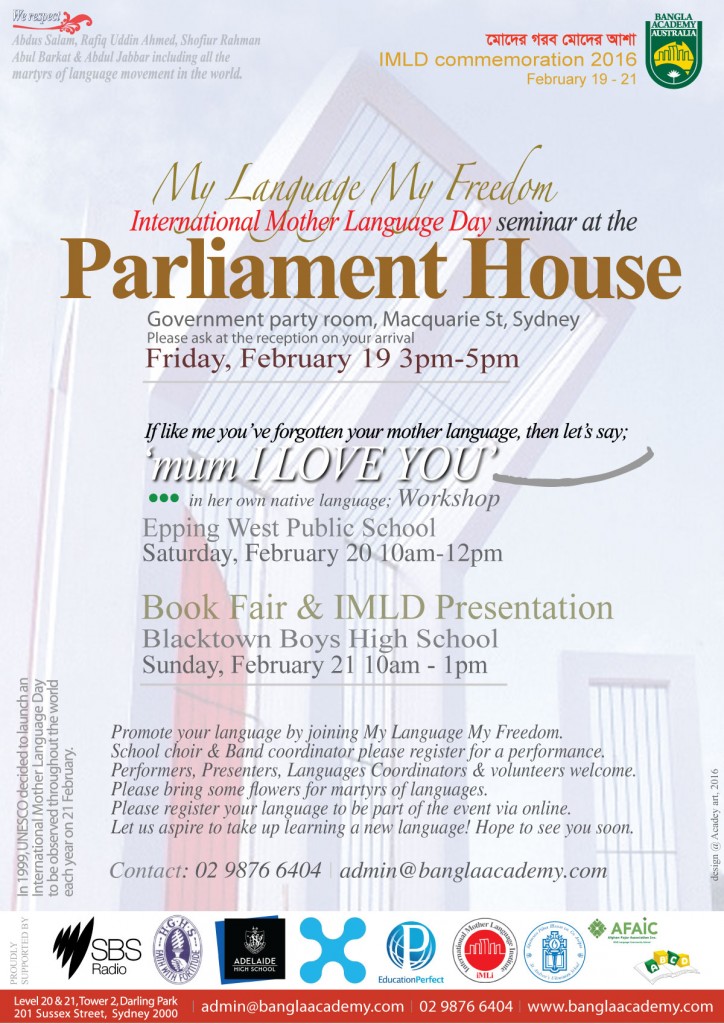 Translations:
 Please translate linked information into your language by creating a word file, email us and
notify us
. We appreciate your support for this cause.