Bangla class for non-Bangla speaker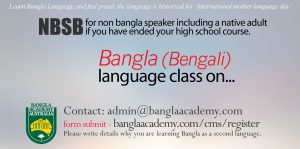 A new class due to start, Enrolling now ! register now.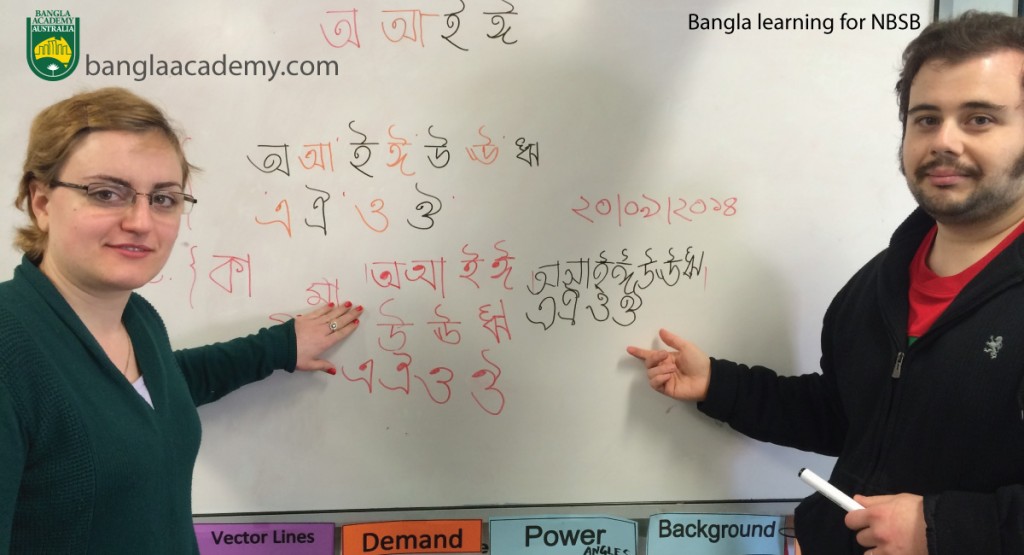 Are you from Non Bangla Speaking Background (NBSB)?
And looking for quality Bangla (Bengali) language class or training?
Please submit a form from this link;
Bangla Academy Australia is running a NBSB program. The dream and hope of infusing Bangla (Bengali) language, culture and heritage in the hearts and minds of the next generation of budding Bangla speaking Australians and people from non Bangla speaking background. Other than Bangla or Bengali what ever language you speak from the list below; you can send us an expression of interest to learn Bangla language.
Aboriginal, African, Albanian, Amharic, Arabic, Armenian, Assyrian, Bangla, Bosnian, Bulgarian, Burmese, Cantonese, Chinese, Cook Islands/Maori, Croatian, Czech, Danish, Dari, Dinka, Dutch, English, Estonian, Fijian, Filipino, Finnish, French, German, Greek, Gujarati, Hebrew, Hindi, Hmong, Hungarian, Indonesian, Italian, Japanese, Kannada, Khmer, Korean, Kurdish, Lao, Latvian, Lithuanian, Macedonian, Malay, Malayalam, Maltese, Mandarin, Maori, Nepali, Norwegian, Pashto, Persian-farsi, Polish, Portuguese, Punjabi, Romanian, Russian, Samoan, Serbian, Sinhalese, Slovak, Slovenian, Somali, Spanish, Swahili, Swedish, Tamil, Thai, Tigrinya, Tongan, Turkish, Ukrainian, Urdu, Vietnamese, Yiddish are the most common language in Australia.
Allow us to present the programme of the Bangla Academy, a renowned language school, specialised in customised language lessons which are tailored to suit the individual needs of our students.
Our aim is to help you communicate in a spontaneous and natural manner. We'll analyse your current level, your needs, your availability and your budget so as to offer you a wide range of possibilities: individual or group lessons, given in our school or at your office, with flexible or fixed times, specialised or general language courses, on an intensive or a long-term basis. On this website, you will find information about the numerous possibilities offered by our centre. Should you require further information or wish to meet us, please contact us at any time: we are entirely at your service.
Epping Branch area covers all Bangla Class and related activity for Epping and surrounding suburbs. BAA Hosts a regular Saturday School at the Epping West Public School.
In Epping Centre, students gather from Epping, Macquarie Park, Carlingford, Pennant Hills, Baulkham Hills, North Rocks, Parramatta, West Ryde, Eastwood, Hornsby, North Ryde and northern part of Sydney. Classes in the Epping Centre are running Sunday morning, excluding holidays.