Epping | Blacktown | Ingleburn | Punchbowl (Lakemba) | Macquarie Fields (subject to approval) branch Bangla Language School
Please email the birth certificate and register online from the link Please write details
Learn free Bangla language | with $120 Book offer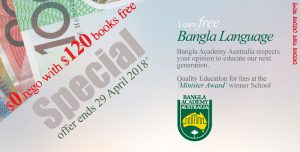 বাংলা একাডেমি ২০০৬ সাল থেকে একাডেমির ভাষাশিক্ষা কেন্দ্র গুলোতে বাঙ্গালিদের মতামত এবং চাহিদাকে সম্মান জানিয়ে স্কুল কার্যক্রম চালিয়ে এসেছে। সুহৃদ সিডনীবাসীরা আমাদের লিখে জানিয়েছেন তাদের অনুভূতির কথা। আমাদের কার্যক্রমগুলোকে তারা শ্রদ্ধার সাথে দেখেন এবং তাদের ছেলেমেয়েকে একাডেমির কার্যক্রমে অন্তর্ভুক্ত করতে চান। বাংলা এ একাডেমি এ কাজটাই এখন করছে। বিনামূল্যে রেজিস্ট্রেশান এবং এ জন্য তাদের কোন ফি দিতে হবে না। যারা ২৯ এপ্রিল ২০১৮ সালের মধ্যে রেজিস্ট্রেশান আবশ্যক। সাথে আছে একাডেমির পক্ষ থেকে $১২০ ডলারের বই উপহার। শিক্ষার্থীকে যত দ্রুত সম্ভব ভর্তি করুন, মানস গঠনের জন্য বাংলা শিক্ষা জরুরী।
Bangla Academy Australia Epping, Blacktown & Lakemba Bangla School is situated at West Epping Public School, Blacktown Boys High School and Punchbowl Boys High School, Sydney, NSW. They journey started 2006 from Epping Centre.
Anwar Akash, Sayeda Hyder, Anindita Ahmed, Sharifa Sharmin, Tania Chowdhury, Sharmin Shafiuddin, Mahmuda Khatun and some other teachers graduated from Sydney University with teachers training. All of our teachers are well educated and qualified to teach Bangla language, literature, history and culture. Our schools are running weekly basis except public holidays with NSW School curriculum.
Debate, Creative writing, Public Speaking, journal writing, drawing, painting, music, recitation, classroom presentation are a few area we are specialised and give education to students. All of our teachers are multi-lingual and multi-task oriented, which helps our students to develop students quality for education and extra curricular activities.
Bangla Academy's students are very competitive. One of our student Sara Hossain received Minister Award for 2013. Other than many of our students achieved Merit, Commendable, Highly Commendable Award for Minister Award of NSW Department of Education. Our students trained and develop themselves to be a native speaking, reading and writing in Bangla.
The main objectives of the school are:
Understanding on Bangla language, Culture & history.
Teaching Bangla language.
Leadership skills on Debate, Public Speaking and Creative writing.
Knowledge on language movement and skills on cultural activities.
Develop confidence and leadership for community development.
The area of subjects are included in our everyday's classroom activities are;
Bangla language.
Bangla literature.
Bangla Cultural activities including recitation, music, debate, public speaking, drawing & painting.
Making friends, field works and team building.
Sports and recreation.
The Bangla Academy Schools regularly arranges monthly, quarterly and annual programs. 'My Language My Freedom' is a brand program where we have a clear access for our school children along with all other students of Australia. Our school childrens are showing their willingness and highest dedication for Multi-cultural Australia.
Academy's Sydney schools started free Bangla/Bengali Lessons since 2006. 'Barna-Parichay' 'shobdo gothon' bakko gothon' which is; vowels, consonants, word building and sentence making are a few steps that our students achieve from the early stage of learning.
For our students benefit we have arranged social activities like picnic and sports. Bangla Academy Australia invites quality people and creative and social activist, trainer, educators for special occasions.
Bangla Academy Australia host a graduation ceremony at the end of the year where students participate with their creative ideas and performances. December 2015 two of our students awarded and received prize. Mr. Imran Sarwar received award on 'Creative Writing' and Ms. Afifa Sultana received award on 'Innovations'. On the graduation ceremony all our students receives 'Certificate of Achievement'
Bangla is only the language where language martyrs sacrificed their lives in Bangladesh. To mark the day, Bangladesh commemorates since 21st February 1952. Since 1999 UNESCO declared that 21st February is the 'International Mother Language Day'. Bangla is the mother tongue of Bangladesh and West Bengal of India, and also spoken in the migrant communities in the West. Bangla Academy Australia offering this course for free for the Kindergarten to Year 12 students. A registration fee applies for all student and subject to prior date enrolment. There is a Bangla course for Non Bangla Speakers also, where you need to pay a prescribed fees. Register now
EPPING | BLACKTOWN | LAKEMBA
EPPING BRANCH:
Epping West Public School, 96 Carlingford Rd, Epping NSW 2121
BLACKTOWN BRANCH:
Blacktown Boys High School, Fifth Avenue, Blacktown NSW 2148
PUNCHBOWL (LAKEMBA) BRANCH:
Punchbowl Boys High School, 54 Kelly St, Punchbowl NSW 2196
Academy's Branches area covers all Bangla Class and related activity for Epping, Blacktown, Lakemba and surrounding suburbs. BAA Hosts a regular Saturday and Sunday School at above locations.
Students gather from
Epping, Macquarie Park, Carlingford, Pennant Hills, Baulkham Hills, North Rocks, Parramatta, West Ryde, Eastwood, Hornsby, North Ryde and northern part of Sydney
Blacktown, Seven Hills, Glenwood, Castle Hill, Bella Vista, Toongabbie, Woodcroft, Mount Druitt, Glendenning, Plumpton, Hassall Grove, Acacia Gardens
Marrickville, Belmore, Lakemba, Strathfield, Wiley Park, Punchbowl, Roseland, Bankstown, Ashfield, Greenacre and surrounding suburbs.
Classes are running in a routine timetable (excluding holidays). Please contact for details